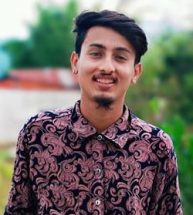 Krishna Thapa (Office Manager)
Following the footsteps of my father and uncle, I joined the trekking and safari business after I graduated from high school in 2014. Mostly, I have been working at the office but I join trekking whenever there is an opportunity, for I love to paint the Himalayan range on my canvas.
Born: Padapur-1, Chitwan, inner Plains of Nepal, South-West of Kathmandu
Areas of Special Interest: Art, Wildlife & Spirituality
Language: English
Academic qualification: BA in Fine Arts, Tribhuvan University
Hobbies: Painting, Photography, Birding
---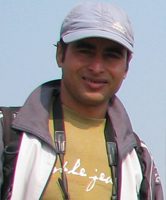 Bishnu Thapa (Trekking Guide & Tour Leader for Birdwatching Safari)
I have been working as a wildlife safari and birding guide since 1997, and as an alpine guide for the last three years. I find my work very fulfilling and enjoyable. Being a guide, for me, is the best way to find the beauty in differences, for I meet people from various different cultural backgrounds, philosophies, and languages. Guiding has greatly influenced my way of seeing the world in a positive way. I am one of the trekking & tour leaders for Samsara Trekking.
Born: Padapur-1, Chitwan, Nepal
Areas of Special Interest: Birding, Flora, and Fauna of the Himalayas.
Academic qualification: High School Graduate
Language: English & Hindi
Travel: Birding and Angling Tour in India for 3 months-2003.
Extra Courses: Nature and Wildlife Conservation- 1099 by NTNC, BNP and WWF, Wilderness First Aid-2009 by NOLS. General Member of Bird Conservation Nepal.
Hobbies: Travelling, birding, reading, and playing the guitar and flute.
---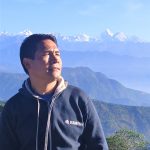 Ramesh Kharel (Trekking Guide and Tour Leader)
I began my trekking journey, first as a porter in 1997 and then a Sherpa. Since 2003 I have been a guide and tour leader. I really enjoy being a guide as it widens my horizons and the way I see the world through people from different countries.
Born: Birta Deurali, Bholung-7, Kavre, a hill district of Nepal, East of Kathmandu
Areas of special interest: Culture and Geography
Academic Qualifications: Bachelors in Sociology Anthropology, Tribhuvan University
Language: English and German
Hobbies: Reading and learning more foreign languages.
---

Shil Bahadur Tamang (Alpinist, Trekking Camp Manager / Alpine Sherpa)
I have worn out many pairs of shoes and trekking boots on the Himalayan paths in earlier days carrying food and stuff and later onward managing trekking crews, so that you have your tea upon arrival at the camp. I know the Himalayas by heart, not only because I have been working in them since 1995, but also because I was born under the shadow of Gaurishankar Himal. I have always felt that I was born to trek, serving you tea and seeing the smile on your faces before you say, "Thank You!"
Born: Dolakha, a mountain district of Nepal, North East of Kathmandu
Language: English
Hobbies: Folk song and dance.
---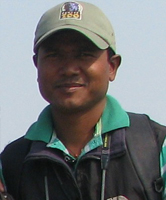 Santa Chaudhari (Tour Leader for Birds & Wildlife)
I have been working as a senior nature guide in Bardia National Park since 1999. I joined the Samsara Trekking team recently expanding the area of my guiding profession. I find my work to be very fulfilling and enjoyable. I believe it is the best way to explore magical nature. I was born at the edge of the National Park and grew up listening to the sounds of birds. What I enjoy most is observing the colors, habits, and habitats of birds and wildlife found in tropical and alpine regions.
Born: Thakurdwara-2, Bardia, Mid West plains of Nepal
Academic Qualification: High School Graduate; Language: English; Travel: India
Areas of Special Interest: Birds and Wildlife
Founding Vice-President: Bardia Nature Conservation Club (BNCC), Bardia National Park.
Training Course: Nature and Wildlife Conservation- 1999 by NTNC, BNP, and WWF-Wildlife Monitoring Course- 2000
---

Prem Gurung (Alpine Guide, Sherpa, and Mount Kailash Tour Manager)
It is a matter of delight to be one of the members of the adventure samsara team, some of whom, I have been working with since 2002. I was born in the village where the Annapurna circuit began and that's where I had my first contact with trekkers. Being a guide and trekking manager I have not only earned my living, moreover, but the profession has also afforded education for children. Trekking in the Himalayas has been a great source of inspiration and learning for me.
Born: Bharte VDC-7 Lamjung, West of Kathmandu and the district where Annapurna Circuit begins.
Areas of special interest: Alpine and Tibet Trekking & Tour
Language: English
Hobbies: Learning Languages.
---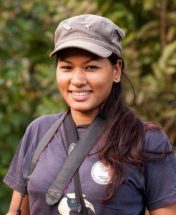 Samikshya Chaudhari (Trekking & Bird Guide)
I have been leading trekkers in the tropical jungles and the Himalayas of Nepal for the past 7 years. Mostly, I have been leading female trekkers and those who come with their family members. Being a guide is an opportunity for me to learn about the languages and people from various cultures and I get to know more about the world outside Nepal. I find the guiding profession as one of the best ways to exchange stories with people from across cultures and nationalities.
Born: Gobrella, Thakurbaba-8, Bardiya
Areas of special interest: Birds, Wildlife & Photography
Training: Senior Nature Guide 2016 (NTNC, Department of National Parks), Trekking Guide 2018 (NMA)
Academic Qualifications: BA in Culture and Social Work, TU
Language: English and German
Hobbies: Photography, Birding, Singing